Reviews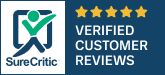 June 22, 2021
Richard Harty
"Really fast service during my lunch break for a smog check. In and out in 15-20 min. May not be the cheapest but it is STAR certified and fast"
April 20, 2021
Salvador Ceja
February 20, 2021
Eric Mak
"Brought the car in. Walked through exactly what was needed to do. They gave me a time frame. Came back. They thoroughly explained, and showed everything. Very happy with quality of service, and attention to detail! Will definitely go back."
August 27, 2020
Ryan Sweat
"Saw me quick, really fair price, tire patch is holding strong"