Reviews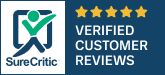 February 15, 2022
Victor Junior
"I always go here for flat tires. Fair price and service."
"I came in for an oil change. It was nice they were able to quickly accommodate my appointment, especially since it was hard to schedule with other auto bodies first. They also used synthetic oil for my Mercedes which is good too."
July 12, 2021
Vern Norviel
"On time on price. It's so nice when car service is not a hassle"
June 22, 2021
Richard Harty
"Really fast service during my lunch break for a smog check. In and out in 15-20 min. May not be the cheapest but it is STAR certified and fast"