Reviews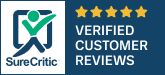 November 22, 2019
Shawna Henderson
"Kevin said the staff are professional, courteous and he had a good time because his vehicle is now running good."
"Erin said the business' service was really good, fast and at a good price. They had her in and out."
Customer
"The staff did a great job and has good customer service!"
Fast and Efficient
"The SMOG test on my car was, as promised, fast and efficient at 1/2 hour. I hardly had time to read my newspaper before the car was finished."